Codetalkers: Henry County students show off computer skills
Source: Amie Knowles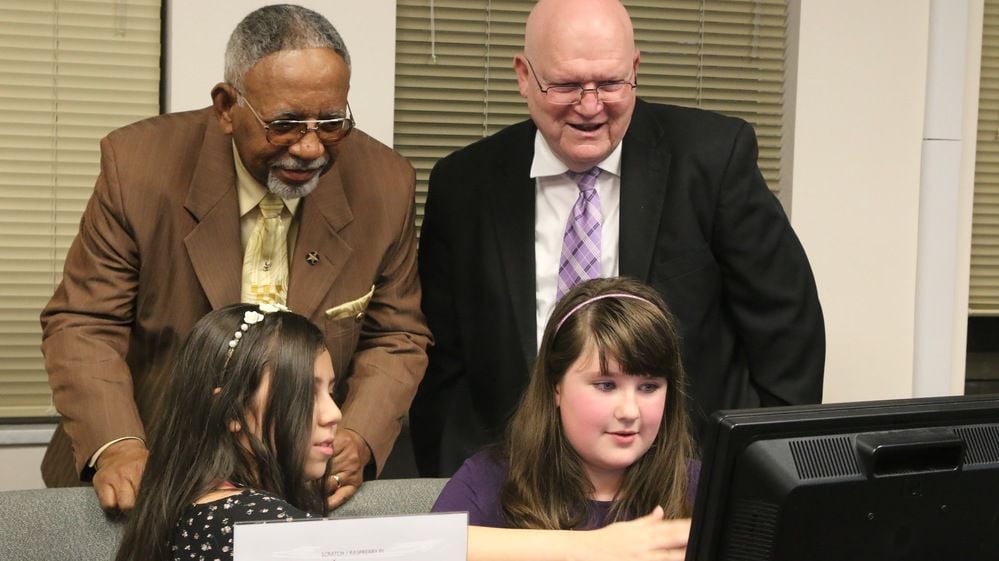 It seems simple. A couple numbers and letters, typed on a screen. But computer code can be a hard thing to learn, as the Henry County School Board found out Thursday night.

Following their meeting, the board members went upstairs to first hear a presentation from Phyllis Meade, the district's STEM (Science, Technology, Engineering, Math) coordinator, who spoke about the importance of coding.

"Recently, the General Assembly approved the bill, HB 831," Meade said. "This bill requires that school districts incorporate fields in computer science, computational thinking and computer coding for all children in elementary and some secondary schools."

While a new bill in Virginia legislation, technologically advanced curriculum isn't new to the local area.

"Henry County Public Schools has been incorporating computer science standards in our curriculum long before HB 831 was passed," Meade said. "We realize that computational thinking is extremely important to our student success."

There are four main areas in which Henry County's computational thinking curriculum focuses.

"Decomposition is the process of breaking down a huge problem into a smaller, manageable piece so that you can make it into something that you can actually solve," Meade said. "The students see examples of this when they solve a division problem or write a research paper."

The second area, pattern recognition, focuses on developmental skills, like when preschoolers and kindergarteners start to count or secondary students start to recognize similarities in cell structures.

Also, HCPS teaches abstraction.

"This can be demonstrated by all the problem solvers as they chip away at the question and find what the main problem is," Meade said. "This is what our teachers are using to help solve math problems and word problems in the county."

Last but not least, students learn about automation, "which is algorithms and debugging. Algorithms are steps to complete a task and the process of making sure your steps are complete and accurate is debugging," Meade said. "This can be found in following the steps of a math problem, reading a recipe or assembling something using a technical manual."

Meade said that she felt computational thinking should be taught across the curriculum "not only because it promotes an understanding of computing, but also an understanding of logical reasoning and problem solving."
+3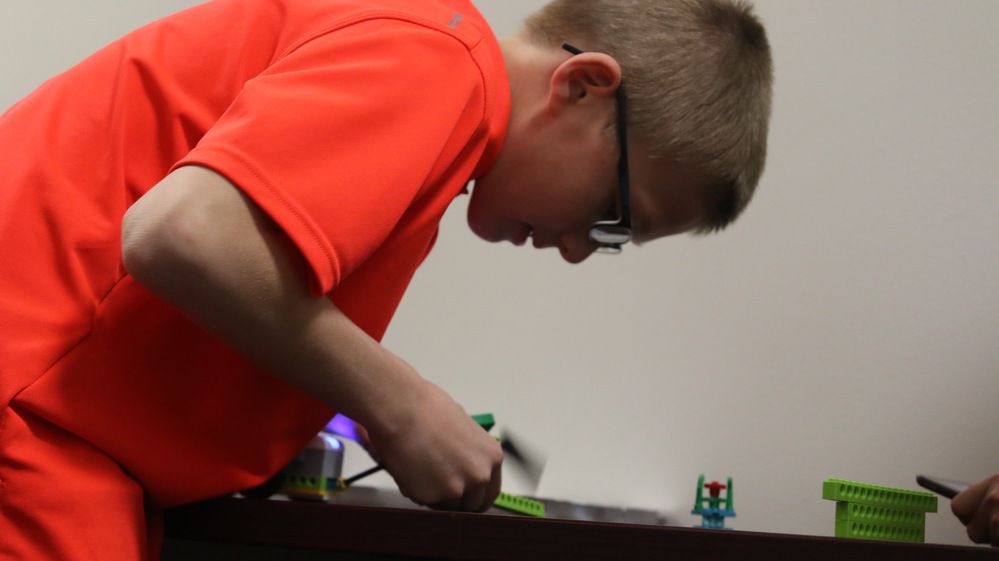 Justin Ford adds a piece to his LEGO lawnmower.


Focus on the future

Following Meade's presentation, students from GW Carver Elementary School showed school board members all about coding. Set up in various stations in the School Board Meeting Room and hallway, students demonstrated their coding skills in action.

One station, Makey Makey, helped students investigate and understand the characteristics of electricity. At this station, students learned about conductors and insulators, basic circuits, and the ability of electricity to be transformed into light and motion, as well as to produce heat.

Vance Perry and Grace Robinson explained the process of using fruits and vegetables to make sounds on a digital keyboard.

"You have to be grounded," Perry said.

"It's a piano connected to different wires," Robinson said, speaking of the wires that entered the produce, then went to a pile a clay which eventually ran back into the computer.

When the children touched the edible items, the keyboard reacted by making a sound.

Another station, LEGO We Do 2.0, helped children demonstrate an understanding of scientific reasoning, logic and the nature of science.

At the LEGO table, Jaken Ford, Justin Ford and Eling Cheng, created a robotic model of a lawnmower.

"We're coding a robot to make it mow the grass," Justin said.

The students used a handy device to get the LEGO model to move.

"It has a motor that connects to the iPad," Cheng said.

While they utilized the iPad to move the lawnmower forward, there were also other features students enjoyed tweaking with the electronic device.

"You can add sound effects," Jaken said.

Students Nicolas Spencer and Cole Wilkinson also dealt with a moving object, Sphero Spark, a remote control ball that they controlled with an iPad.

"You can move it forward or control it freely," Wilkinson said. "If you do it at 180 degrees, it will head back the opposite way."

Spencer enjoyed the options Sphero allowed.

"You can make it roll, change color, even make it spin," Spencer said.

Ailyn Rivera and Kylie Minter created a computer game using programming software Scratch's Raspberry Pi.

"We're doing programmation," Rivera said. "That's coding to make things move. We're making more of a game."

"We created a video game where the main character is a prince. You have to answer social studies questions to save the princess," Minter said.

Five correct answers about the Revolutionary War, the Underground Railroad and United States Presidents wins the game.

"It took three weeks" to make the game, Minter said. "For simple code, it doesn't take that long."

Students Ariah Hairston and Jordon Jacobs worked at a station called Osmo Kits, which helps children practice phonetic principals to read and spell well.

"You're learning sight words," Hairston said.

While GW Carver student Juan Rivera said he wasn't a professional coder, he stated, "In two weeks, I've learned a lot of things."

The evidence of the children's learning impressed Superintendent Dr. Jared Cotton.

"You all know a whole lot more than I do," Dr. Cotton said.