The Rise of Robots Will Make the Tech Gender Gap Even Worse
Source: Jacqueline Simmons and Jeff Green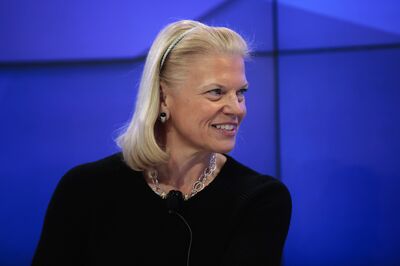 Whether it was IBM boss Ginni Rometty, dashing onto the podium to anchor a panel on artificial intelligence, or a defiant Christine Lagarde, holding forth on the need to fight back against populism, high-powered women were everywhere at this year's World Economic Forum in Davos. Women reached a record share of attendees who scored prestigious white badges at the event.

What echoed through the halls of the main Congress Centre and after-hours events, though, was the sobering truth that the tenuous gains women have made in the world economy are at risk for those further down the ladder. Especially when it comes to the jobs of the future.

The so-called Fourth Industrial Revolution, the rise of automation and artificial intelligence, is projected to be far more destructive globally to jobs currently favored by women than to jobs favored by men, according to the WEF. Three of the top growth areas -- management, computer and math, and architecture and engineering -- have low female participation with little expectations of significant increases.

"What CEOs really need to talk about is how do we ensure that women make it through the mid career," said Pat Milligan, global leader of consulting firm Mercer's multinational client group. "There's a lot of senior women here but I don't think we're solving the problem together."

QuickTake: Gender gap in voting

Saadia Zahidi, head of education, gender and work at the WEF, said the forum addressed the issue of future gender disparity in technology with panels and open sessions, and will launch a new initiative on the topic later this year.

Overall female representation at the professional level and above in technology companies is expected to decline to 31 percent from 34 percent, according to a report by Mercer. Gender parity will take about 170 years, 52 years longer than estimated in 2015, at current rates, according to the WEF.

The share of women in the U.S. computing workforce will decline to 22 percent from 24 percent in the next decade without intervention, according to research released in October by consultant Accenture LLP and the advocacy group Girls Who Code. Women make up just 18 percent of computer-sciences majors in the U.S., down from 37 percent in 1984, they said. The report was distributed to 12,000 female attendees at the Grace Hopper Celebration of Women in Computing in October.

The cycle is very difficult to fix, says Eric Roberts, a computer science professor at Stanford University. He has tracked the progress, and lack thereof, for women in technology for the last 30 years. Women's share of computer-science degrees has declined even through the last two hiring booms and is projected to do the same in the current cycle, said Roberts, who also spoke at the Grace Hopper conference.
Recruiting Gap

Initially, colleges will aggressively recruit women to join their programs, he said. There is a shortage of computer science professors, so at some point, universities are forced to cap enrollment and decide who gets accepted to their programs. Women fare more poorly because they tend to be less prepared for the classwork, Roberts said.

"We are not training women for the jobs of the future," said Michael Roth, CEO of Interpublic Group, whose eight-year-old grandson is already learning to code. "There's a huge opportunity in coding and we're making a mistake if we don't adjust our curriculum."

Not everyone is convinced that the coming robot revolution has to mean doom. IBM's Rometty said artificial intelligence such as the computing company's Watson will create more jobs than they destroy. Companies need to focus on so-called new-collar jobs by encouraging more training, she said during the otherwise all-male panel. She joked as she entered the dais as the discussion was already starting about how hard it was to run in her shoes.

QuickTake Guide to Populism

In part, the system is stacked against women from the start because they aren't getting into the right roles, said Virginie Morgon, deputy CEO of French investment company Eurazeo. In some cases, men are pushing back as they cite gains already made in the boardroom, she said.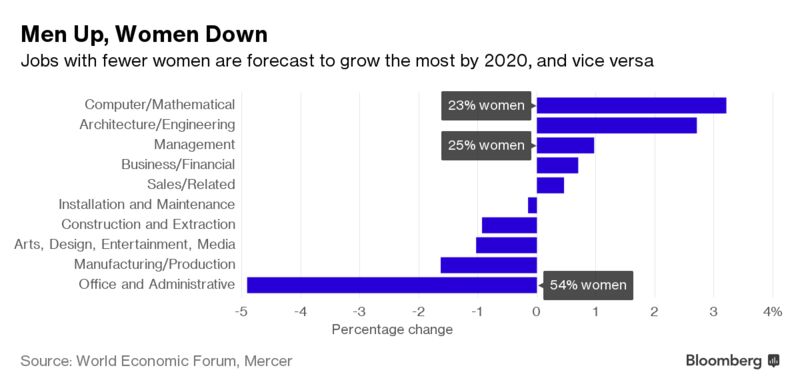 "In the good old democracies, continental Europe and a bit in the U.S., women are not trained to be engineers," Morgon said. "There's an old mindset that they're not meant to. And they sort of prevent themselves."

Some progress is being made. At Columbia University's Fu Foundation School, women accounted for 47 percent of the incoming undergraduate class last year, an increase from 32 percent ten years ago, Mary Boyce, dean of engineering, said during a Davos panel on how the Fourth Industrial Revolution will affect women.

"The presence of women attracts other women," she said, advocating for a renewed focus on getting interest in engineering and science, particularly for girls. The Mercer study also predicts that women in leadership roles at the top of technology companies will grow to 40 percent from 18 percent in the next decade.

Read More: Chart of the Hour on Women at Davos

Davos organizers are targeting more women, who made up 21 percent of the attendees with white badges this year, said Zahidi. White badges allow access to high-level panels that are mostly closed to the media, as well as private events. The forum is targeting "shapers" and global leaders to increase the gender balance.

That didn't spread to this year's Technology Pioneers, executives from startups that are giving a discounted rate and other accommodations to allow new tech companies to be able to afford to attend the forum. This year there were 33 executives, all chosen by a selection committee from the industry and only one was female, according to the list provided by WEF. The forum says it strives for gender parity in communities where it has direct influence on who is selected.

The situation is complicated and needs more focus, said Barri Rafferty, partner and president of communications firm Ketchum. She noted the small number of women networking at the bars after hours and cited rooms full of people and yet with only a handful of women present.

"I don't think the gender equity discussion is evolving as much as it should," she said. "The discussion is still pretty inward.&nbsp &nbsp We've stalled in the last 12 years, seeing less CEOs in the fortune 500. We're not making progress. The bias that exist is not going away so I think we have to start to look at the bigger fixes."

The conference ended the day Donald Trump was inaugurated as president, and one day before hundreds of thousands of people marched in cities around the world to protest his comments about women.

"If he's making promises to be more inclusive, to bring America back to greatness, he has to really get into the weeds now and through his campaign he wasn't in the weeds," Rafferty said. "Business, hopefully, is saying we're going to be in this, we're going to educate the administration, the market is good right now and we're going to hope for the best."