Donald Trump will have to defend himself in court over fraud claims before he be
Source: Andrew Buncombe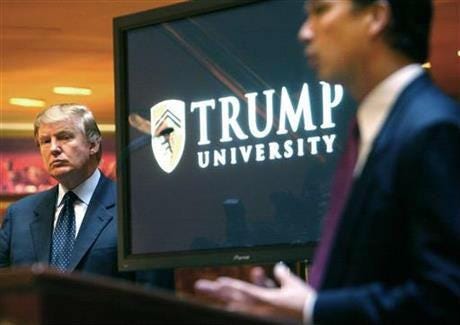 Donald Trump will later this month become the first president-elect in history to appear in court to defend himself against allegations of defrauding his own countrymen.


The 70-year-old Republican is scheduled to appear on November 28 in San Diego to answer allegations from former students of the now-shuttered Trump University. A number of students claim they were mislead into paying up to $35,000 learn worthless real estate investing "secrets" .

"I cannot think of any precedent for someone having to defend themselves like against such allegations," Robert Shapiro, professor of government at Columbia University, told The Independent. "If he is found guilty, he could have to pay out a lot of money."

Reuters said that while presidents enjoyed immunity from lawsuits arising from their official duties, the US Supreme Court has said this shield does not extend to acts alleged to have taken place prior to taking office.

The lawsuits stem from people who said they enrolled for courses that did not offer insights into the real estate industry, and that the so-called experts involved in the affair were not selected by Mr Trump.

The New York tycoon has denied the allegations. Because it is a civil suit he is not obliged to appear in court, though he has made clear his intention to do so and gave two depositions in the case while campaigning.

Donald Trump is 'vile and horrible' says former Foreign Secretary Margaret Beckett

Miami trial consultant Sandy Marks told the news agency that Mr Trump may ask the presiding judge, Gonzalo Curiel, to postpone the trial in an effort to settle the case before taking office.

"I think the judge would be foolhardy not to give him a short delay, which would give him a chance to resolve the case with all these people and put it behind him," he said.

Mr Trump repeatedly claimed on the campaign trail that he would win the lawsuit, and he accused Mr Curiel of being biased against him because of his campaign promise to build a wall along the border with Mexico. The judge was born in Indiana to Mexican parents.

At one point, Mr Trump told supporters: "He's a Mexican. We're building a wall between here and Mexico."

Claims against Mr Trump over the seminars date back to to 2010, with two class actions filed in federal court in San Diego and another case brought by New York Attorney General Eric Schneiderman on behalf of students who claim they were misled.

Politico said that in addition to several suits over Trump University, Mr Trump has threatened lawsuits against a dozen or more women who've accused him of sexual impropriety and assault. Several of those women have threatened to countersue if he comes after them.

At the same time, there is also a New York state investigation into Mr Trump's charitable foundation and a reported federal investigation into some of his advisers' ties to Russia.