Publishers warned to stop depending on Facebook amid steep drop in web traffic
Source: Swindon Advertiser
News publishers will need to reduce their reliance on Facebook to survive, experts have warned, as figures show a dramatic drop in interactions with their content on the platform during the course of last year.

Press Association analysis of data from social media analytics company Newswhip revealed a huge fall in engagements – a combination of reactions, comments and shares – on website content for many of the UK's biggest news websites towards the end of 2017.

Seven out of eight UK news publishers analysed by PA saw year-on-year falls in both total and average engagements with content on their sites in December. Combined, total engagements with content from the eight websites was down 27.6% over the same period.

Among these were the top three performing sites in the UK: bbc.co.uk saw total engagements down 21.6% compared with December 2016, with the dailymail.co.uk down 41.6% and independent.co.uk down 46.6%.
Graphic showing total engagements for the BBC, Daily Mail and Independent - the top three UK news publishers - falling across the course of the year.(PA Graphics)

The figures appear to echo data from Parse.ly which showed that referrals from Facebook to publishers' sites fell dramatically over the course of the year. According to the figures, Facebook provided nearly 40% of traffic from web publishers in January 2017, but this fell to 26% by the end of November.

That, and a rise in website referrals from Google, helped the search giant overtake Facebook in August for the first time since 2015, according to the analytics firm.

Facebook regularly makes changes to its algorithm in an effort to keep users engaged on its platform, and experts told the Press Association they believed the development represented a "managed decline" on Facebook's part, as opposed to any kind of accident.

Matt Navarra, director of social media for technology news site The Next Web, said he believed the cause was hard to discern due to Facebook's secrecy over the algorithm, but suggested it could be due to a combination of factors.

Penalties on "clickbait" headlines, the promotion of video, a higher overall number of publishers and experiments with how posts are displayed could all be having an effect, he said.

"My hunch is the decline will continue for a little while longer until it plateaus out," he said.

"Facebook is still experimenting with its Explore Feed, the demand for space in News Feed is still growing, and no doubt Facebook will continue to alter its algorithm to nix more things that could impact publishers."

Ian Murray, executive director of the Society of Editors, said the drop in referrals and engagement could also represent a response to the "growing pressure" the company has faced from a publishing industry feeling the pain of falling advertising revenues, and governments concerned over the apparent spread of misinformation and propaganda on the platform.

"The mutterings of regulation in corridors of power, again, on both sides of the Atlantic have been growing… so is this a reason why that is happening? Perhaps that may well be," he said.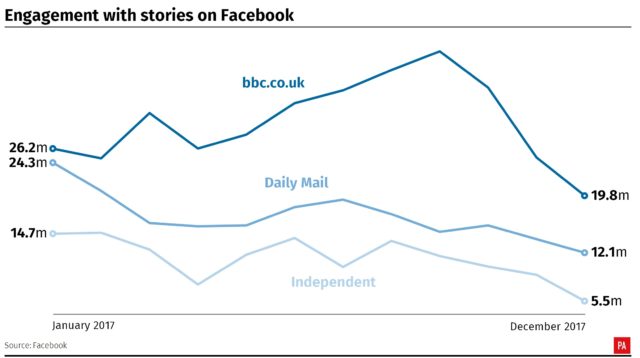 Mr Murray added: "[Mark] Zuckerberg did come out and basically say towards the latter end of last year more or less that it did appear that Facebook had problems with regard to interference by outside bodies such as the Russians. So therefore one presumes that this is getting their house in order, as it were."

Analysis from eMarketer published last year suggested Facebook and Google could take their share of the UK digital advertising market to more than 55% in 2018, with many in the publishing industry warning of the threat to their revenue models.

Asked how the news industry would respond to the additional threat of falling traffic from the social network, Mr Murray said: "If the models publishers have created are too dependent on referrals from Facebook then they are going to have to move pretty quickly, by the look of it, to diversify."

"I'm going to say be careful what you wish for because there are elements within the publishing world who would wish Facebook to go away. In fact it could be the worst of all worlds – they're not going away but they're not basically offering the lifeline, the conduit back to the publishing industry in the way that they have."

"But I think the upside of it all is that traditional publishers… have realised that it is a changing world out there and they have to be pretty adaptable," he added.

Mr Navarra echoed those sentiments, saying: "Publishers will look to do what they have been trying to do (or should have trying to do) for some time – spreading their efforts across multiple platforms to reduce the reliance on one such as Facebook."
}