China market: Hardware competition heats up among smartphone vendors
Source: Sammi Huang and Max Wang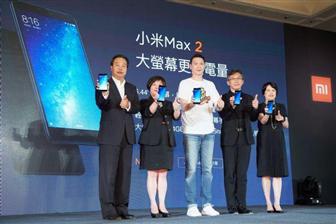 Competition in China's smartphone market is set to become keener in the second half of 2017 as local vendors have continued to win market share through upgrades of their hardware specifications, according to industry sources.

Nearly all major players, including Huawei, Oppo, Vivo and Xiaomi Technology, have been moving toward the developments of their next-generation smartphones by adopting all-screen panels, dual cameras, high computing speeds, slim-bezel bodies, fingerprint authentication technology, expanded memory capacity and longer battery life as a means to maintain their competition, particularly in the mid-tier to high-end segment, said the sources.

Huawei, currently the top vendor in China, reportedly plans to launch its new flagship smartphone, the Mate 10, in the coming fall. The Mate 10 will come with a powerful CPU, HiSilicon's Kirin 970, which will be built using a 10nm FinFET technology, the same process as Apple's A11 processors used in the forthcoming new iPhone devices.

Huawei shipped 23.5 million smartphones in China in the second quarter of 2017, accounting for a 21% share, according to IDC. For the first half of 2017, the company's smartphone shipments totaled 73.01 million units, up 21% on year.

While Huawei's Honor branded smartphones remain popular, the company has set a strategy to focus mainly on mid-tier and premium models, said the sources.

Buoyed by the launch of its R11 in mid-June, Oppo's smartphone shipments expanded 11.3% on year to 20.1million units in the second quarter of 2017 and ranked second in China with a 17.9% share, IDC data showed.

The R11 features a 20-megapixel primary camera on the rear and a 20-megapixel front shooter for selfies. The Oppo R11, which is powered by a Qualcomm Snapdragon 660 processor, also comes with curved edges and fast charging technology.

With OPPO's aggressive marketing efforts and its well-established retail networks, the R11 is expected to continue to enjoy brisk sales in the coming months, the sources continued.

Xiaomi continued to make gains in the second quarter, with domestic smartphone shipments reaching 14.2 million units, which were up 25% from a year earlier and accounted for a 12.7% share in China, IDC said.

Xiaomi unveiled recently a new dual camera model, the Mi 5X, targeting the mid-tier segment. With improved retail networks and enhanced product portfolio, Xiaomi expects its sales momentum to continue into the second half of 2017.

Shipments of smartphones in the China market reached 111.8 million units in the second half of 2017, down 0.7% from a year earlier, according to IDC. China's top-four vendors, Huawei, Oppo, Vivo and Xiaomi, accounted for 66% of the China market in the second quarter, up from 56.1% of a year earlier.
}