Why Silicon Valley Uses Multiple Computer Displays
Source: Laurence Dutton
---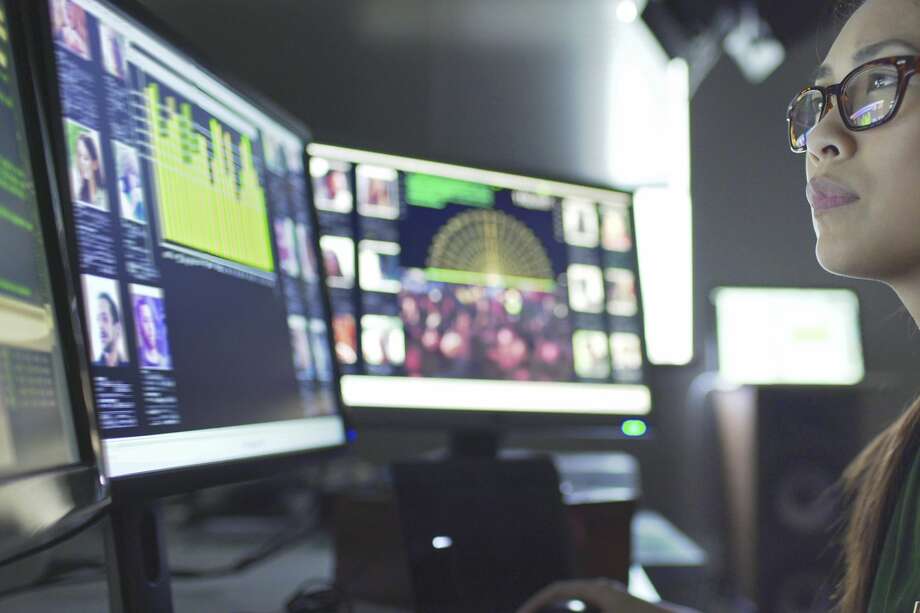 Walk into any fast-paced startup or high-powered tech company in Silicon Valley and you'll see a lot of things that might not be traditional for a workplace. Unorthodox decorations, strange lighting and open floor plans will be the order of the day. Yet while tech company environments may be one-of-a-kind when it comes to snack bars and ping pong tables, one thing all seem to share are multiple computer displays for their computing needs.

Using more than one monitor, in this way, has a long history. Banks of displays have their role everywhere from business to the realms of science fiction. It's only relatively recently, however, that home and business computing has reached a point where it's cheap enough -- and computers are powerful enough -- to run multiple monitors without extra internal hardware.

Take a tour of any high-powered tech company, and other businesses, and you'll see monitors everywhere. Microsoft workstations have two to three screens on average, and, often, large projectors. Even small, agile startups have docks for netbooks with additional monitors.

So, what's significant about that? you might ask. Well, using more than one display benefits anyone with a lot of work to do (read: entrepreneurs). Sure, this scenario might not be ideal for everyone, but it's worth trying out for the following reasons:
Convenient data access

One of the best benefits to using more than one monitor at a time is having the screen real estate necessary to show you everything you need to see at once. When you're writing a blog post, you can have a word processor and two to three browser windows open to access research, tools and references all at once. You don't have to waste time tabbing and scrolling, trying to remember where a particular detail is. You just have them all on hand!

The same goes for other forms of data access. Someone in a programming field can could have code references up in one window, the current project in another, a database query result in another and the tools necessary to compile whatever's needed squirreled away in a corner. Nothing is buried, nothing is hidden; it's all right there and easy to access.

Part and parcel with data access is a reduction in errors. It's easy to mix up numbers or introduce typos when translating data from one window to another, but when both are visible on screen at the same time, verification becomes easier.
Active monitoring

Some of us work in positions where a quick response time is crucial. A customer service or sales rep might want to jump on the chance to follow up on a new contact, so having an email window open at one end of a screen is a great benefit.&nbsp &nbsp An IT worker might want server-health monitors or other displays visible, to spot a sporadic problem while at work on another task.

What a second monitor -- or a third, in some cases -- provides is awareness. One screen can be devoted to a primary task, while a secondary screen to the side or above can serve as a window into information.&nbsp &nbsp You can simply glance up or over to see how everything looks, rather than taking several moments to tab over or open an analytics window to check.

You can also use part of a second monitor for certain productivity apps. Pomodoro timers and similar task-management aids are great for this; you won't necessarily be as startled by a sudden alarm when a timer starts counting down.
Task prioritization

One great benefit few people mention is the ability to prioritize tasks while using multiple monitors. It takes some self-discipline, but we all inherently choose one monitor, or even one position on a large monitor, as a primary location. Your current active task goes right in the middle, surrounded by additional windows necessary to perform that task, while the next item or two oin your to-do list takes up tertiary positions on other screens.

Related: We Test It: The Portable LED Monitor

Some people might find this distracting or feel they need to multitask on each visible project simultaneously. Personally, I find I can focus on one task while the next one percolates in the back of my mind.&nbsp &nbsp Once I finish the primary task, my subconscious has already formulated a few ideas for getting started on the next one.

Jon Peddie Research has performed studies in 2002, 2012, and 2017 about the productivity increases involved with multiple monitor usage. It's found that usage has steadily increased, and that productivity among multi-monitor users is on average 42 percent higher than single monitor users.
Alternatives

Using more than one monitor isn't necessarily required to gain the above benefits. There are an increasing number of ultra-wide monitors hitting the market. One ultra-wide monitor can be more useful than multiple standard monitors. For one thing, there's no gap between them: You can spread out your windows however you like. They're also often curved, for a more natural display and reduced stain on the neck and the eyes.

One drawback to an ultra-wide monitor is that most programs and websites are not designed with a huge horizontal distance in mind. This leads to a lot of fiddling with window- and app-positioning, and resizing. As an alternative, to skip this, use virtual desktops. You can organize different virtualized desktops for different tasks, and switch between them quickly and easily.
Drawbacks

Using multiple monitors isn't for everyone. It's not a perfect system, and there are some people today switching back to single screens.&nbsp &nbsp Admittedly, you do require a certain level of discipline to avoid distractions while using two or more screens. They can be a pain in the neck -- literally -- if they aren't positioned properly. They do require an appropriate amount of space on a desk or in a cubicle; and getting a setup that's comfortable is a matter of trial and error. There's also an adjustment necessary if you frequently work with a laptop or tablet on the road, and dock it, or use a multi-screen setup in the office or at home.
---
}